Sapogi Launches The Most Fashionable Shoe For Plantar Fasciitis. The Best Solution For Foot Pain
SAPOGI shoes are designed in USA by a team of shoe experts, podiatrist, and the founder who himself has plantar fasciitis. Bringing a fashionable yet practical solution for arch and heel pain.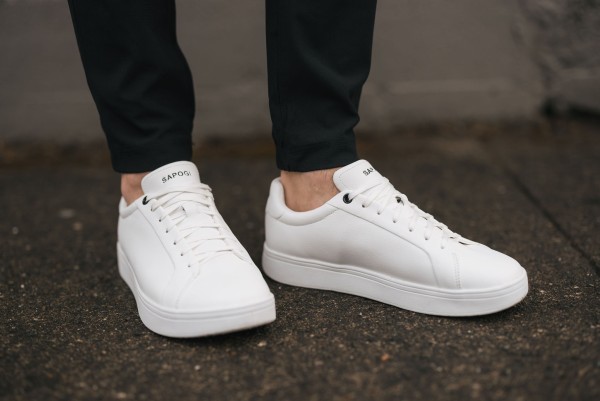 Seattle, WA – Jan 6, 2023 – Sapogi LLC. Sapogi shoes, a manufacturer in comfortable and fashionable footwear, is excited to announce the release of their latest creation – the most fashionable plantar fasciitis shoe on the market.
Plantar fasciitis, a condition that causes pain in the arch and heel of the foot, is a common ailment that requires special supportive shoes to alleviate pain and discomfort. Sapogi's new shoe has been specifically designed to provide the necessary support and comfort for those suffering from plantar fasciitis.
A quote from the founder of Sapogi shoes, who also suffers from plantar fasciitis, "I have it, it's no fun. It's also amazing how much the right pair of shoes can do." After years of research and development the shoes are finally available. Dr. Mark B. DPM, a podiatrist, has declared the new Sapogi shoe "exactly what you need for plantar fasciitis."
In addition to its functional benefits, the Sapogi plantar fasciitis shoe is also highly fashionable. It can be dressed up or down and goes with any outfit, making it the perfect shoe for any occasion.
Plantar fasciitis is the number one cause of foot pain, and Sapogi shoes is committed to providing a solution for those who suffer from this condition. The new Sapogi plantar fasciitis shoe will be available through podiatrists and online at sapogi.com. So don't wait any longer and get the support and style you deserve with Sapogi's plantar fasciitis shoe.
About SAPOGI
Sapogi shoes were created to address the issue of plantar fasciitis and provide relief for those suffering from arch and heel pain. The founder of Sapogi experienced this problem personally and was unable to find a suitable solution, so he set out on a mission to work with podiatrists, shoe designers, and manufacturers to create the ideal product. After years of research and development, Sapogi is proud to present their final design. These shoes are specifically designed to provide support and comfort to those with plantar fasciitis and help alleviate pain in the heels and arches. Whether you are an athlete, a busy professional, or someone who simply wants to live a more active and pain-free lifestyle, Sapogi shoes may be a good choice for you.
Media Contact
Company Name: Sapogi
Contact Person: Dan
Email: Send Email
Country: United States
Website: www.Sapogi.com